Starting area for zombie minigame
if you cannot add waves or its hard.
just leave it and make it a survivul thing
were zombies come at you and you have no food.
and you have to se how much u can kill (thats only if waves dont work)
please comment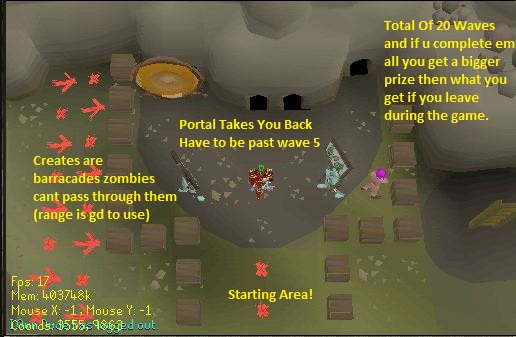 Rewards: to get your rewards you finish as much waves as u can
then u leave like 1 wave = 2 points , 2 waves = 5 points , 3 waves = 10 points
4 waves = 15 points and 5 waves = 25 points
shop should be at the home
rewards cost: make the rewards over 600 ea so its something to work to get.
all 20 waves are for donators and staff and only 5 waves are for people
who are neither of the above.
Credits:
Me 50%
Hippi Hump 50% (for getting me all coords

)
ok next we are making a lobby and for the
game to start you will atleast need to have 2
players more info in next post